Bradbury Memorial Center has a unique Remembrance Room designed as a home library. Its comfortable couches and chairs provide a cozy setting for conversation and remembrance. This room also easily transforms for more formal memorial or traditional funeral services. Allows gathering of up to 20-25 individuals.
Our Coffee Bar is stocked with gourmet coffee, soft drinks, juices, and water. Other refreshments also can be made available during arranged services at Bradbury Memorial Center. The Coffee Bar is located near our Remembrance Room and our staff is available to help your family and friends make this time meaningful.
Live stream with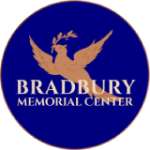 For all those who wish they could be there.
Remember Together, Preserve Forever
We can live stream & record all of your loved one's
services to remember forever.
All Streams Recorded
Stream From Anywhere

High Definition Sound & Video
Share with Friends & Family

Create Private or Public Events
Preserve Flowers & Cards