As technology improves and the need for flexibility increases, Bradbury Memorial Center is proud to offer certain online options.
Video Conferencing and Electronic Signature
When a death occurs, we understand there may be times when the responsible person is unable to meet with us in person. Bradbury Memorial Center offers video-conferencing options and electronic signature capabilities through trusted internet programs in order to streamline the arrangement process.
Recording of Funeral and Memorial Services
As this trend becomes more mainstream in today's death care industry, we're onboard. Bradbury Memorial Center offers the option of recording your arranged services. It allows your family and friends to watch from near or far away after the live service.
Live stream with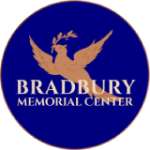 For all those who wish they could be there.
Remember Together, Preserve Forever
We can live stream & record all of your loved one's
services to remember forever.
All Streams Recorded
Stream From Anywhere

High Definition Sound & Video
Share with Friends & Family

Create Private or Public Events
Preserve Flowers & Cards