Life is marked with celebrations. At the time of death, life should be celebrated, too.
Many people have celebrated with you throughout your life: at birthdays, during holidays, and on vacations. They would like to acknowledge your importance to them.
Let your family or loved ones know if you would like a burial, cremation, or no services at all. It is important that they know your wishes. Sometimes we think we are helping our family by not having services, but it could possibly contribute to longer periods of grief.
If an unexpected event such as an accident occurs, it becomes even more relevant for family and friends to hold a service.
The staff at Bradbury Memorial Center is here to help you sort out these decisions.
Live stream with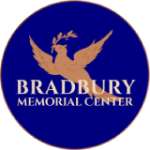 For all those who wish they could be there.
Remember Together, Preserve Forever
We can live stream & record all of your loved one's
services to remember forever.
All Streams Recorded
Stream From Anywhere

High Definition Sound & Video
Share with Friends & Family

Create Private or Public Events
Preserve Flowers & Cards